SNOWBERRY GARDENS
Snowberry's home is a remote group of islands deep in the South Pacific, New Zealand. A land of unusual beauty stretching from sub-tropical climate into some of the world's magnificent fiords; a land of sparkling lakes, snow-capped mountains and a rich and unique rain forest. Here at Snowberry Gardens, we sustainably source our unique New Zealand ingredients and design our skin care range.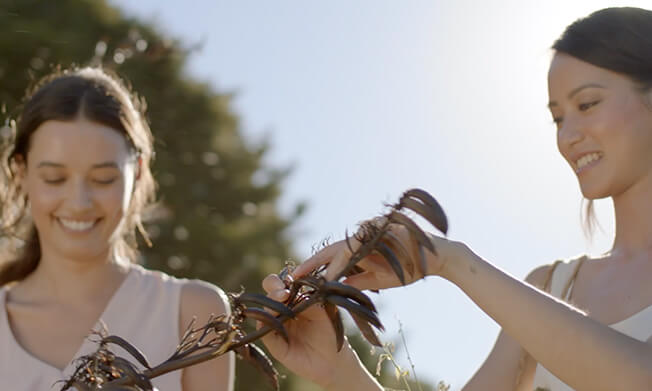 POWERFUL HAND PICKED NEW ZEALAND INGREDIENTS
At Snowberry Gardens, we sustainably source, grow and harvest our unique New Zealand ingredients that exclusively create our skin care range. These rare ingredients can only be found in New Zealand, and have been carefully selected to deliver maximum potency and results for your skin:
Totara Tree produces Totarol: a super antioxidant that fights surface free radicals and is also a natural preservative
Kanuka Flowers and our resident bees produce Kanuka Honey: which helps reduce redness, calm and hydrate the skin
Harakeke Flowers have "black gold" seeds which are cold pressed to give Harakeke Seed Oil: rich in Omega 3 and 6 to build the skin barrier
Trademarked power-packed peptides: CuPep and eProlex that help to penetrate these actives deep into the skin surface
Find out more about each of our powerful NZ ingredients.
FIND OUT MORE
THE SNOWBERRY EXPERIENCE
We had media influencers and editors visit the Snowberry Gardens in February 2019 to tour the gardens and experience Snowberry skincare. Watch the video see what they had to say.